Breathe New Life into Your Old Kitchens
The quickest and easiest way to enjoy a brand new kitchen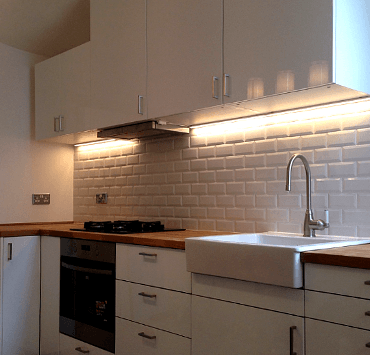 When the doors of your kitchen cabinets fall off their hinges, when not a single appliance seems to work as intended, when your sinks are constantly clogged, and when the cheerful colors of your walls have long since faded… you know it's time for an upgrade. Okay, we kind of went too far there, sorry. But regardless if you're looking for a simple worktop or cupboards refurbishment or need a comprehensive kitchen restoration, Your Master will always be nearby to take care of everything.
No matter you are home or business owner, rest assured that your kitchen renovation project will be completed within budget and on time to uncompromising standards. And here are some of the advantages that come with our services:
The electrical wiring in your kitchen will be handled by a qualified electrician;
Any fitting and installation  jobs will be carried out by tidy and knowledgeable handymen;
An experienced plumber will ensure that all plumbing works are done to a very high standard;
Your kitchen will benefit from custom-built MDF or solid wood kitchen cabinets, doors, floorings, and even partition walls.
Get a personalised service based on your budget and requirements
[sg_popup id="2″ event="click"]SCHEDULE A SURVEY[/sg_popup]
Get to know our service better by checking the short FAQ list
Q: What preparations do I need to make for my kitchen renovation?
A: Start by removing all your personal belongings from the cookery. If you're experiencing difficulties moving certain furniture, you can freely leave it as it is – the handymen will cover the entire kitchen in protective sheets as a safeguard against dust and spills.
Q: What the pros can help you with
A: No job is to big or too small:
Installing new sinks and faucets;
Fitting various kitchen appliances at optimal spots;
Mounting new backsplashes and light fixtures;
Designing and installing countertops;
Refurbishing kitchen cabinets;
Replacing kitchen doors and fitting door hardware;
Priming walls and applying a final coat of paint;
Performing various plumbing & demolition tasks;
Doing sub floor preparation and flooring installation;
Selecting, ordering, and delivering all required materials to your doorstep;
Refreshing the look of any old kitchen furniture.
Q: Can my handyman help me choose the right materials?
A: Certainly! Just ask your professional and he will supply you with ample information regarding the quality and durability of each and every material you have chosen. This will help you make the optimal choice for your kitchen installation project and get the best value for your money.
Q: How much will my kitchen refurbishment cost?
A: All renovation costs for your bespoke kitchen will be listed in a detailed estimate. In order to better satisfy your needs, we will first send a skilled professional to make a survey and prepare a price quote based on your individual project. This assessment will include the approximate price for all materials and installation tasks, as well as a complete rundown of the handyman services labour costs.